The Draw of the Ghana Boxing Scene
The Ghanaian capital of Accra is a hectic town moving at a busy pace but is special at its core, producing some of Africa's finest fighters; among them, five world champion boxers such as Azumah Nelson, Joshua Clottey, and Ike Quartey, whom are all from the small district of Bukom Square. However, the neighbourhood of Bukom, a small subsection in Accra, isn't a particularly built up area, and the houses consist of corded shacks under tin roofs. While there are nationally renowned boxing champions sprouting from this area, the town mainly consists of fisherman and fishmongers due to its coastal location.
Azumah "The Professor" Nelson, a native of Bukom, has gone on to win three world titles in the 1980's and 90's. He is perceived as a national hero and widely considered to be the greatest boxer ever to have come out of Africa. While Nelson has ventured out of Bukom, he still lives in Accra and leads a more lavish lifestyle but states that: "Bukom is like survival of the fittest… when you are a child, you need to find food for yourself, you need to struggle for yourself to get something to eat and get money. It makes you tough…. Sometimes you just fight. Fighting is nothing, it's not any big deal."
It is evident that boxing is built into the culture of Bukom, and the fighters are neighbourhood superstars and national heroes. There are boxing gyms scattered across the neighbourhood encouraging that pathway of life.
Bukom delivers a specific set of circumstances: poverty and the motivation to escape it. The stars that have flourished from Bukom have served as role models to the natives who prove it's possible. It could be said that the historical repetition of stars has proven there's a genetic heritage of strength and speed in the population, and an infrastructure that's developed in the town to help make the most of those genes. Although, while very few will make a living from boxing, fewer still will make it to the top – but the goal to become another Bukom legend is a driving force.
Other than the legacy of these champions, why do international boxers flock to the still underdeveloped town? Healthcare worker and Sporting Opportunities advocate, Danielle Barker, spent six weeks with us in Ghana on a boxing experience, which isn't your usual all-inclusive holiday abroad- particularly for a young female. But Barker comments on just how important boxing has become in her life since the pandemic: "I got into boxing through covid which helped my mental health." Barker was looking to expand her horizons and was thriving when pushing herself to try new things.
"When I spoke to people about coming out here, I was worried about being a woman… but again it was just another challenge; I wanted to see if I could get more women out here. Everyone has been accepting."
As well as Barker, Welsh boxer Lauren Price has also spoken positively on boxing impacting her mental health, and her gold in the Tokyo 2020 Olympics, with Ghanian boxer Samuel Takyi also winning a boxing bronze medal alongside her.
Ghanaians have an intense passion for boxing and it's perhaps Ghana's most popular sport after football, mainly after seeing the success from the reigning champions of Bukom. Danielle Barker reflects on her time in the city: "There's so much to do but you can get involved in everything like helping in the orphanage or watching people play football. I thought I'd be coming out here to coach or teach but instead it's been the other way around. It's been great, I feel like I've been learning instead of teaching other people."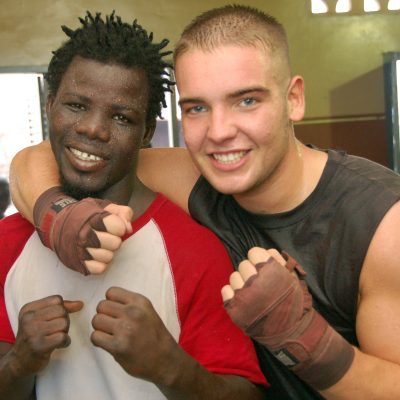 durations start from
14 days
The Sporting Opportunities boxing placement in Ghana will allow you to experience this passion firsthand through training with highly accomplished African fighters, some of whom have fought and won at Commonwealth standard. The emphasis with this placement is not so much on your coaching, although any input will be welcomed, but rather on your personal development as you train and befriend some of Ghana's top athletes. By doing so, you will gain a deeper insight into the world of the West African boxer. The 8-12 week placements are enriched with team-building activities.
Our in-country team organises a variety of activities to bring volunteers together, to share their experiences and, above all, have a good time. Some of these activities include visits to the best night spots, group meals, trips away and sports teams where you can take on local competition. You will have the opportunity to teach classes, or assist in teaching classes, in one of the sports academies or schools based in Accra.
You will be able to get a real taste of the Ghanaian boxing culture while having the opportunity to improve your own fitness and fighting skills. Although we welcome experienced trainers and fighters, there is no expectation for you to have a vast knowledge of boxing and training techniques.
Although the focus is on your own personal development, you may have the chance to make a difference to the lives of the youngsters who train at the gyms. Many of Ghana's young fighters pin their life's hopes on turning professional and put a great deal of effort into accomplishing their dreams. You could therefore find yourself acting as a mentor or friend to help them achieve their most ambitious goals.
Check out more of our Sporting Opportunities in Ghana!