Hannah Middleton: Teach Swimming to Kids in South Africa
Why did you decide to go overseas to volunteer to teach swimming?
I chose to coach swimming overseas because I realised how something we take for granted back home could save someone's life in South Africa. The thought of just being able to teach a child just how to keep their head above water could do so much and was such a rewarding experience.
What did you achieve during your placement?
I achieved so much just by being here. Not only did I gain a cultural knowledge an history of South Africa, but I gained the rewarding feeling of watching as a child who wouldn't let go of the edge of the bar at the start of my lesson, to watching her swim half a width by herself! I have also become more realistic in terms of personal things, what I need and what I can do without, just like so many people do here. I also became more aware of my money, this trip taught me to budget my money a lot better. In terms of swimming, I have learned to new techniques to teach swimming from my fellow volunteers and how to adapt each technique to different styles of swimming.
What was a typical day like?
A typical day for swimming coaching usually started around 10am and consisted of an average 3 classes, each lasting an hour. We started with them on the side, kicking their legs off the edge. Then when they got in, we played little games to get them used to splashing around and getting their faces wet. We then made the children kick their legs with floats and off the rail. We then did different techniques with the floats. We then usually ended with letting the kids jump and dive in and have a few minutes playtime. Evenings were either a quiet night in with a film, or out to a club. I would like to do more stuff in the evenings that included things around P.E.
What are your most memorable moments?
The most memorable moments for me were teaching the children how to swim, and the look on their faces when they swam a width, length or did relays. Also, nights out and trips to game reserves such as seaview.
What was the social life like?
The social life within this situation is very sociable. Being put into a group of 30 people it would be very difficult not to get on with anybody, so I think it's nice that there is always someone to talk to.
What were the local people and culture like?
I have found the local people very friendly and have all been interested to know about us and what we are doing here. Even people in shops over hearing our accents and asking us questions. The culture is very different from back home. Living in a very westernised house isn't much of a culture shock, but visiting the townships is enough for someone to realise just how lucky we are.
What did you try that you had never tried before?
The food has got to be a major issue in terms of stuff that I haven't tried. Petting a 6 month old lion cub, and staying the night in the township, although this whole trip is new and exciting to me. We are never going to be in this situation with the same people again so it's quite good.
What are your top 5 MUST SEE places in South Africa?
Kruger National Park (although I haven't been there)
Cape Town
The Boardwalk
Jeffreys Bay
Storms River
What are your top 5 things to do in South Africa?
Bungee Jump of Storms River Bridge
Climb Table Mountain
Shark Cage Dive in Mussel Bay
Safari
Surf in Jeffreys Bay
What were you doing before you went away?
Before I came to South Africa I had already finished University and was just working at my local hospital doing clerical work.
What obstacles did you have to overcome to go on the trip and how did you overcome them?
My family and friends have known I wanted to do a gap year for a long time so they were prepared when I decided to go to South Africa. In terms of money, I had been saving for a year and a half and I was very excited to come and start my programme. Luckily, my job allowed me three months unpaid leave to come out here.
If you took a gap year or career break, why did you do this, and what have you gained from doing so?
I have been planning a gap year since I was 12 as that is when I realised I wanted to travel and see the world. I have gained a lot of personal skills such as money management and being more tidy. I have also learned not to take everything I have and own for granted.
Has the experience affected your 'life plan' in any way and if so how?
I don't think this experience has affected my life plan as I didn't really have one. Everyone has a dream future life, and I think that this trip has made me want that dream future even more and has given me hope to do it. I just regret not doing something like this when I was 18 before University.
Would you recommend it to others and if so why?
I would definitely recommend this trip to others. It is a fun and amazing learning experience.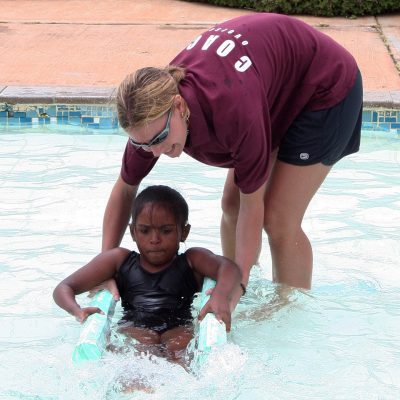 durations start from
28 days