Linzi Mirams: Sports Physiotherapy Internship in Ghana
Linzi spent 2 months as a sports physiotherapist intern with us in Ghana and got on so well that she has now taken up a one year position helping to support and develop our physiotherapy clinic. We caught up with her on the experience.
African Sports Physiotherapy Internship
"After graduating from the University of Gloucestershire with a BSc (Hons) in Sports Therapy, I made the decision to apply for a physiotherapy internship program abroad to help gain more experience as a newly qualified Sports Therapist.
I travelled to Accra, Ghana, in January for 10 weeks to take part in a volunteer Sports Therapy internship. It was without a doubt the most incredible experience I've ever had. I had the opportunity to not only work with an up-and-coming football academy but also one of Accra's premiership football teams, Accra Hearts of Oak. This was something I never thought I would be able to do but because of the opportunities available, I was to broaden my knowledge and gain a lifetime of experience. When working with Accra Hearts of Oak, I assisted the current football physiotherapist in his tasks to support the team. During my first week I was given a chance to show what I had learnt at University when I was assigned to a specific player who I assisted in his rehabilitation from a previous injury.
Physiotherapy Internship in Ghana
I attended Hearts of Oak training three times a week and with the football academy that Sporting Opportunities support, training five times a week. My weekends consisted of pitch-side first aiding the academy matches and injury assessments. Unfortunately, the premiership league had not yet started whilst I was working with Hearts of Oak, but I got to assist the physiotherapist at organised friendly matches.
During my spare time I coached netball at a local school to help encourage and improve basic netball skills to young girls. I have played netball most of my life and am very passionate about the sport. Therefore, I absolutely loved teaching the girls' different skills and games that they will always remember. I also taught English at a school called UCC to underprivileged children, this consisted of helping to learn and review basic numbers, equations, letters and words. I worked with children on a one to one basis. This allowed them to concentrate and have maximum attention that they needed to work on things that they found particularly difficult. I coached netball four times a week with different classes and taught English at UCC once a week.
When I wasn't working, I took part in many excursions with fellow volunteers around Ghana. I was able to visit various places, from waterfalls and mountains in Volta to elephants and safaris in Tamale. I can say I had the full African experience that I will never forget! I was also able to attend Ghana's 61st Independence Day. There was also a lot to do with fellow volunteers and staff such as salsa and karaoke nights.
Being able to work with Accra Hearts of Oak allowed me to gain valuable experience working with athletes at a premiership level as I now fully understand the physical demands that these players endure and how I, as a Sports Therapist, can help. Working with the football academy was a real eye opener and I have never met such motivated and talented young boys. I felt so proud and privileged to be able to tell everyone that I was working with this amazing academy. They have inspired me to be the best Sports Therapist that I can be and made me remember why I wanted to be a Sports Therapist in the first place. I made some friends for life and Ghana has become like my second home, it is a place full of different opportunities and I would 100% recommend to this to anyone. You would be crazy not to!
Linzi Mirams Fundraising for Ghana Physio Project
I go back to Ghana in a few months' time to start a new chapter of my life as the Sports Therapist for the football academy and I cannot wait. I truly believe this continued opportunity is going to catapult me into the professional sports therapist role back in the UK alongside me having strong sports links in West Africa for many years to come."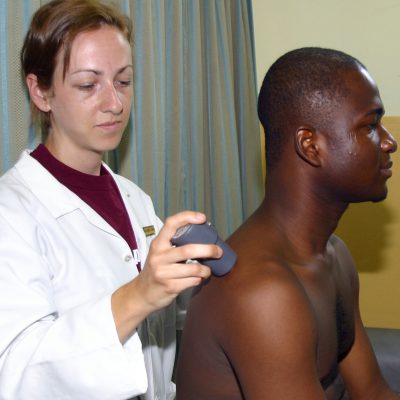 durations start from
28 days