Neil Barnes: Football Coaching and Playing Project in South Africa
Neil Barnes spent a few weeks as a sports coach in Port Elizabeth, South Africa. Read his account of a typical day below; handy if you're thinking of volunteering in your gap year…
"In the summer after my graduation I was bored out of my skull. University was finished and with no idea of what I wanted to do with my life, I scoured the internet for inspiration. A few friends from uni coached football in the USA each summer (I stayed at home and suffered working in retail) and it had me thinking: maybe I should do something similar?
It was an idea at least and I felt comfortable teaching sports, but the USA didn't really appeal to me. I wanted somewhere different. After many a Google-search, I settled on five weeks in Port Elizabeth, South Africa, teaching sports at local schools and sport centres.
I was one of 25 volunteers on the project. All of us stayed in the same hostel, which had Sky TV and a swimming pool: result! We had the weekends to travel or go out partying, but each of our working days went a bit like this…
7.30am
If the sound of my dorm-mates crashing around hadn't woken me, the loud bangs on the door from other staff members definitely did. Breakfast was cereal and toast, something a bit more special on the weekends. Food scoffed and teeth cleaned, we got our equipment together, packed a hasty lunch and made our way to the minibus.
8.30am
The drive to the sport centre usually lasted around 45-minutes, and took us out of Port Elizabeth and into the surrounding townships. The minibus we travelled in was plain white, but others we passed were painted in masses of colour and had outlandish names such as 'gansta', 'renegade' and my personal favourite: 'vomit'.
9.30am
School sport in the area didn't take place in the morning so our time was spent coaching and playing football against the men of the townships who were out of work. The idea was to give them a focus and a routine, along with a bit of enjoyment. More often than not the training element didn't last: the locals just wanted to play the game – sometimes 20 would turn up, sometimes five. It made organisation a little difficult but we had some qualified coaches in our group who always seemed to know how to make it work.
Midday
We ate lunch on the grass – usually just sandwiches and a packet of crisps. Then we'd jump back on the minibus and head to one of the three local schools.
1.30pm
We would work alongside the sports coaches at the school and generally follow their lead. Some days we'd coach football, other days it would be rugby, hockey or netball. To say we were a little short on equipment is an understatement. There was never enough, so we'd resort to relay races and large scale games.
Before each lesson we'd survey the condition of the sports areas. Quite often there would be glass shards and sharp edged plastics lying around; an obvious danger to the children that had to be removed.
5pm
We'd get back to the volunteer hostel at around 5pm. There'd be a fight for the showers and a rush to get a prime seat in front of the TV (the ashes were on) for those that now how a free evening. Dinner was served at 6pm.
On certain days of the week, there'd be the chance to play in an ongoing footsal tournament back at the sports centre. Footsal is a form of football, but the ball is weighted and cannot go too far up into the air. It's five-a-side, with small goals and a focus on neat passing and keeping the ball on the floor. Over the five weeks we were on placement we didn't fare too badly; I think we only lost once or twice.
9pm
The neighbourhood wasn't 'rough', but the general rule of safety stated that we should be back before dark… unless it was a weekend (we all went to the pub and stayed out much later).
There was a complex of bars, restaurants and a casino not too far from the volunteer accommodation. The volunteer lodge rep, who we all got to know well, would drive us down there in her pickup truck for a small fee. It wasn't the most health and safety conscious method of travel, but I did enjoy the ride, sat in the back of a truck with no roof.
11pm
This was normally bed time. A film would have been watched and some chocolate munched, so as it got towards midnight people would start slipping off to bed in the race to get to sleep before someone else started snoring. Ah the joys of shared dorm rooms!"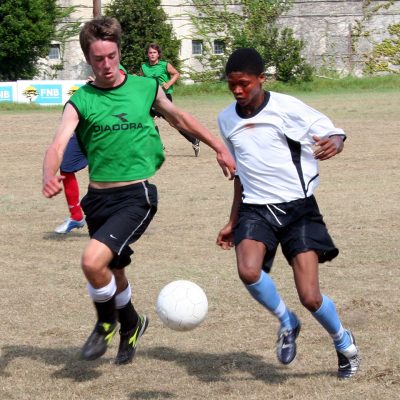 durations start from
7 days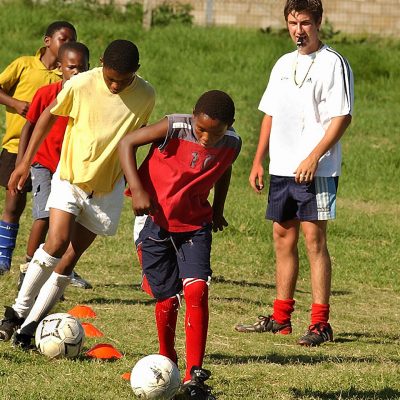 durations start from
28 days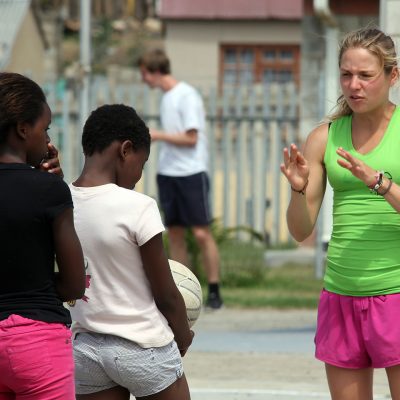 durations start from
28 days